Kuwento Engkuwentro – Angelo Folklore, Legends & Sidewalks Stories
By
Visited 1295 times , 1 Visits today
Start Date: May 14, 2015
End Date: May 31, 2015
Time:
Location: Pico House, El Pueblo (424 Main St., Los Angeles, CA 90012)
Claim Ownership
Description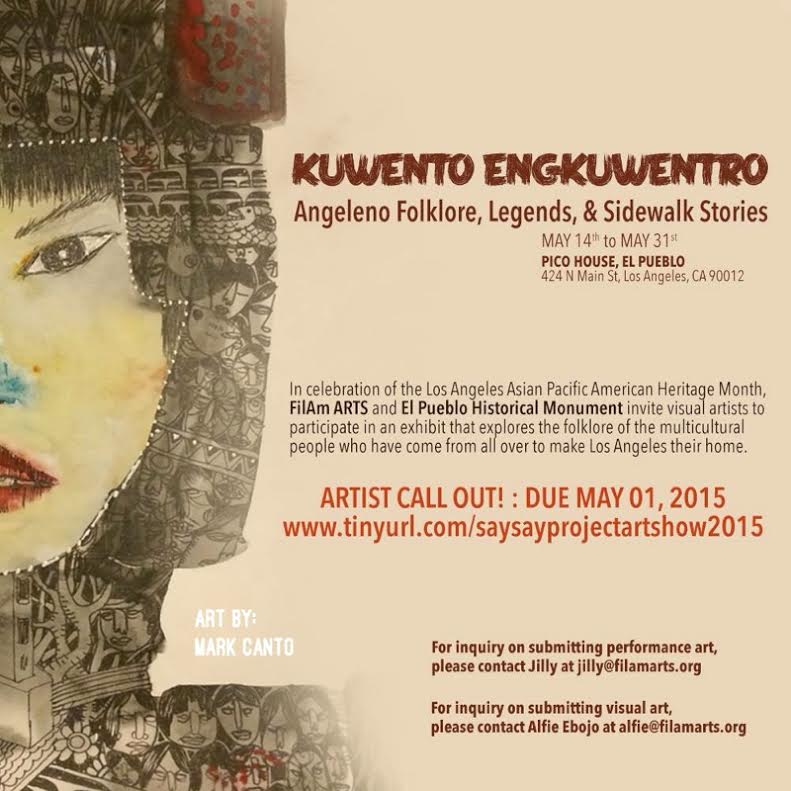 May 14 – May 31, 2015
Pico House, El Pueblo de Los Angeles Historical Monument
In celebration of the Los Angeles Asian Pacific American Heritage Month, FilAm ARTS and El Pueblo Historical Monument invite visual artists to participate in an exhibit that explores the folklore of the multicultural people who have come from all over to make Los Angeles their home.
folk·loreˈfōklôr/
noun
the traditional beliefs, customs, and stories of a community, passed through the generations by word of mouth.
A body of popular myth and beliefs relating to a particular place, activity, or group of people.
When we hear 'folklore' we think about hushed stories told around a fire – legends, tall tales, fables, and other seemingly unbelievable stories. But folklore is also traditional art, literature, knowledge, and practice. Every group with a sense of its own identity shares folk traditions – the things that members of the group traditionally believe ('how the world began,' family traditions), do (dance, play music), know (how to cook, how to build homes), make (weave, art, craft), or tell (stories, riddles, and legends).
ARTIST CALL OUT!: DUE MAY 01, 2015
www.tinyurl.com/saysayprojectartshow2015
About the Organizers :

Related Events
Start Date: January 19, 2019
End Date: January 20, 2019
Time: 10:00 am to 7:00 pm
Location: 2705 Fairplex Dr. Pomona, California 91768

View Event Detail

Start Date: September 30, 2017
End Date: September 30, 2017
Time: 1:00 pm to 6:00 pm
Location: Sheraton Cerritos Hotel 12725 Center Court Drive South Cerritos, CA 90703 United States

View Event Detail

Start Date: August 11, 2017
End Date: August 13, 2017
Time: 4:00 pm to 11:00 pm
Location: 285 W Huntington Dr Arcadia, CA 91007

View Event Detail