FASO Goes Pops An Evening for Popular Music November 14
By
Visited 1397 times , 1 Visits today
Start Date: November 14, 2015
End Date: November 14, 2015
Time: 7:00 pm
Location: 216 N Brand Blvd, Glendale, CA 91203, United States
Claim Ownership
Description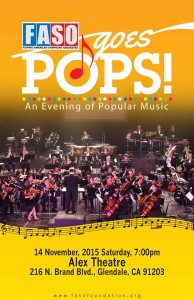 FASO Goes Pops!: An Evening of Popular Music

FASO is auditioning singers for its upcoming concert FASO Goes Pops!: An Evening of Popular Music at the Alex Theater in Glendale, California on November 14, 2015.
The orchestra will perform selections from your favorite Classical Pop Music and Original Pilipino Music (OPM).
This will be a great opportunity to perform with FASO. Audiences began attending FASO performances in 2010. FASO is the first and only Filipino orchestra outside of the Philippines.
FASO (http://www.fasofoundation.org) operates as a non-profit organization. We are committed to encouraging orchestral music and cultural diversity by developing and promoting Filipino-American artists through programs designed to educate and enrich the community.
About the Organizers :
FASO is an artistic group committed to the enrichment of Filipino culture through orchestral music by developing and promoting artists through programs and activities designed to educate and enrich the community.

Ticket Prices $100 ~ $75 ~ $60 ~ $40 ~ $25 For ticket inquiries & reservation, please call: Bob Shroder (818) 395 8936 Arlene Ferrolino (213) 248 9850 Andy Tecson (213) 300 4870 For sponsorship inquiries, send an email at

info@fasofoundation.org

Related Events
Start Date: December 7, 2019
End Date:
Time: 6:00 pm to 8:00 pm
Location: White Memorial Church 1720 East Cesar E Chavez Avenue Los Angeles, CA 90033 United States

View Event Detail

Start Date: December 7, 2018
End Date: December 7, 2018
Time: 6:00 pm to 11:59 pm
Location: 1740 W. Temple St., Los Angeles

View Event Detail

Start Date: November 13, 2018
End Date:
Time: 6:00 pm
Location: 556 Fifth Avenue (near 45th St), NY, NY

View Event Detail