Storytime + Merienda
By
Visited 88 times , 2 Visits today
Start Date: December 8, 2019
Time: 2:00 pm to 5:00 pm
Location: Bayang Art & Music Collective 1139 East Dominguez Street #Suite K Carson, CA 90746 United States
Claim Ownership
Description
Flipp Family is a community built for families to learn more about their culture and provide a place for their whole family to gather.
Bayang Art + Music Collective offers private music and art lessons.
Together they will be hosting an afternoon of activites that include parol making, storytime, live music and merienda.
Merienda is afternoon snack in Tagalog. Your favorite afternoon snacks may include pandesal, bibingka, arroz caldo, pancit. etc.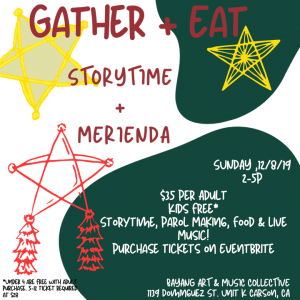 About the Organizers :
How to Register
Click on the below link to register by going to our website. Just enter your detail and pay the registration fees.

Related Events
Start Date:
End Date:
Time: 11:00 am to 4:00 pm
Location: 2001 Junipero Serra Blvd., Daly City, CA 94014

View Event Detail

Start Date: October 14, 2017
End Date:
Time: 10:30 am to 11:30 am
Location: Pilipino Bayanihan Resource Center, 2121 Junipero Serra Blvd Daly City, CA 94014 United States

View Event Detail

Start Date: October 14, 2017
End Date:
Time: 2:00 pm to 3:30 pm
Location: Solis Martial Arts ( Next to Bank of America), 1611 Sycamore Ave hercules, CA 94547 United States

View Event Detail