Weapons Instructor Development & Certification Course
By
Visited 679 times , 2 Visits today
Start Date: September 24, 2017
Time: 8:00 am to 4:00 pm
Location: Alpha Doce Pares 84-33 Jamaica Ave. 2nd floor Woodhaven, NY 11421 United States
Claim Ownership
Description
Start a Weapons Training Curriculum in your Martial Arts School even if your Style or System specializes in Striking or Grappling!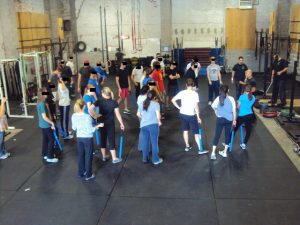 Instructor Specific Training, No Weapons Experience Needed. Course strictly geared for Instructors with Zero Experience in Weapons Training.
Last Month's Certification Class Sold-Out, Don't Wait 'till the last Minute to Register. We Only have 14 Spots Available.
Registration opens Sept 11th, 7:00 am & ends Sept 17th 11:00 pm
Most instructors mastered the art of striking & grappling but don't have a consistent curriculum for a safe practical weapons training. To be a complete martial artist you need to master 3 fundamental martial arts skills: Striking, Grappling & Weapons Training. In this training seminar I will provide you with all the necessary skills to start your own practical padded weapons program. Weapons training adds excitement to your existing classes & help improves retention. In this training seminar you will learn literally hundreds of practical padded weapons drills, combinations & variations that will give you years of teaching material. Some of these drills are the same drills that I teach law enforcement & military based on the Doce Pares Eskrima System, the oldest Eskrima organization in the Philippines established in 1932. You will definitely love how easy it is to teach our weapons curriculum. You will be able to use it as a stand alone program or a supplement to your BBC or Advance programs.
So, wether you are instructor wanting to add a practical padded weapons program to spice up your curriculum or an instructor looking for new ways to help your student retention. I am here to help you achieve your goals.
Training course will be offered every last Sunday of the month, once you accumulated 40 hours of Instructor training time you will eligible to Test for your Level I Instructor Certification.
We guarantee that you will learn a lot of effective Weapons Drills that you can start teaching in just one day of training, if you decidet not to complete the 40 hours of required for certification. You will still get a Certification of completion each training day you attend.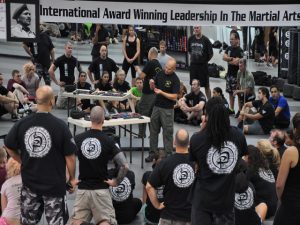 Training Course Overview
*Training Manual & Worksheet will be provided in this course.
Stick & Knife Curriculum
• History and Component
• Formalities and Salutations
• Grips/Holds
• Warm-Up/Calisthenics
• Basic Strikes and No. System/ Blocks
• Stances
• Footwork
• Single/Double Stick Twirling
• Single/Double Stick Partner Drills
• Counter Strikes
• Stick & Knife Disarms
• Stick Bagging Drills
• Stick & Knife Numbering system
• Knife disarms
• Drills to enhance your knife defense
• Various stike & knife fighting training drills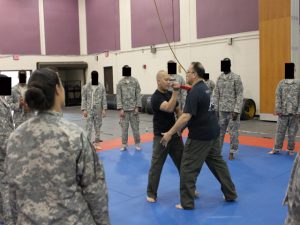 Instructor Bio: Sonny Mayo
Sonny Mayo a student of GM Dong Cuesta for 2 decades is a former 2 time US National full-contact stick-fighting champion & Silver medalist in the world championship in the mid-90s. In the early 2000 as a fight trainer Sonny Mayo produced national & world champion eskrima fighters up to the present.
In the last 5 years Sonny Mayo was sought by different law enforcement agency & personnel to teach close quarter combat tactics in the use of edge, impact weapons & close quarter pistol. He is also the featured lead instructor in the 2010 & 2011 LAW ENFORCEMENT Expo in the Jacob Center in Manhattan, NY & Pittsburgh PA. Also a regular guest Combatives instructor at Camp Smith in Upstate NY to the 1/106 Military Police Battalion. To date Sonny has taught Defensive Instructors form city, state & federal agencies here in NYC. He comes highly recommended & endorsed from the instructors of most of the Law Enforcement trainers in New York City.
Course Dates: Sept 24th, Sunday 8 am- 4 pm
UPON COMPLETION OF THIS PROGRAM, ATTENDEES WILL RECEIVE
CERTIFICATE OF ATTENDANCE TO THE DOCE PARES INSTRUCTOR INTENSIVE TRAINING COURSE.
After Succesful Completion of 40 Hours of Instructor Training & Succesful Passing of Test you Will Be awarded a Level I Certification & Would be given a Teaching certificate valid for 2 Years.
Cost: $150, $50 Deposit upon registration $100 Cash on the day of the event.
Class size is Limited We will not "hold" slots in the course. All participants must complete a registration form and pay prior to being included on the training roster. Don't Delay & Sign-Up now!!
Deposit for missed training is non-refundable instead will be credited towards a future Doce Pares Eskrima course.
We want to make sure that you will be completely satisfied with This Training course that we are offering you a 100% Satisfaction Guarantee or Your Money Back.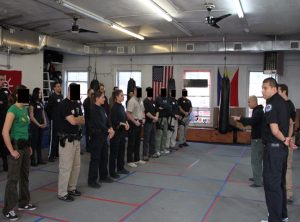 Equipment List: All training gear & equipment will be provided by us, Training attire is up to the seminar participant, You are are more than welcome to wear your Martial Arts Gi or uniform. NEED More Info: Info@AlphaDocePares.com 718.850.5501
Testimonials:
Master Sonny Mayo is an integral part of our weapons curriculum. Our 1st stick class created so much excitement, we grossed over $6000 in Black Belt Club enrollment in just 2 short months since we added the Doce Pares Program.
– Kyoshi Joyce Santamaria, EFC Board of Director
One hour class with Master Sonny gave me months of teaching material, it keeps my classes fresh & new.
– Master Michael lee, 6th Dan TKD Masters Martial Arts, LI NY
"Master Sonny Mayo's Instructor training camp is one of the best weapons training camps I have ever attended. It combined Instructors who could communicate the material with passionate ease and curriculum that surpassed my expectations. With the knowledge and skills I learned from Master Mayo, I have made my school, instructors, and eventually, my students, on another level concerning weapons training and skill in the use of escrima. Master Sonny Mayo has also stayed informative even beyond the standard class, showing a professionalism and passion for his art that is only found in some of the greatest martial artists in the world. I intend to continue my education through Master Mayo and spread the Doce Pares training to better the students under me. It has been a privilege to learn from Master Mayo and I relish the opportunity to train with him again."
Master Keith Bennett, 6th Dan – Tang Soo Do Doce Pares New York definitely offers the best Filipino Martial Arts experience around. I attended the one day Doce Pares Instructor Development Course. Sonny Mayo Sensei is an absolute gentleman, and was respectful of the fact that everyone that attended the seminar is from different martial arts disciplines. The material was presented in a clear, organized and systematic manner, which allowed for easy learning. Mayo Sensei is very approachable and had an open mind during instruction which reflected among the good character of his staff at the academy. I believe anyone that is serious about martial arts needs to learn this style.
– David Chan, Sensei Uechi Ryu
About the Organizers :
Organizer of Weapons Instructor Development & Certification Course Sept 24th, Sunday 8 am to 4 pm
How to Register
Click on the below link to register by going to our website. Just enter your detail and pay the registration fees.

Related Events
Start Date: May 15, 2019
End Date: May 15, 2019
Time: 7:00 am to 11:59 am
Location: 5121 Van Nuys Blvd #300, Sherman Oaks, CA 91403, USA

View Event Detail

Start Date: March 13, 2019
End Date: March 13, 2019
Time: 6:00 am to 11:59 pm
Location: 555 West Temple Street, Los Angeles, CA 90012

View Event Detail

Start Date: October 14, 2017
End Date:
Time: 7:30 am to 9:30 am
Location: 111 Harbor Drive San Diego, CA 92101 United States

View Event Detail