Pistahan sa Connecticut and Lifestyle Show 2015
By
Visited 1135 times , 1 Visits today
Start Date: April 18, 2015
End Date: April 18, 2015
Time: 1:00 pm to 6:00 pm
Location: Hamden High School Gymnasium, 2040 Dixwell Avenue, Hamden, CT
Claim Ownership
Description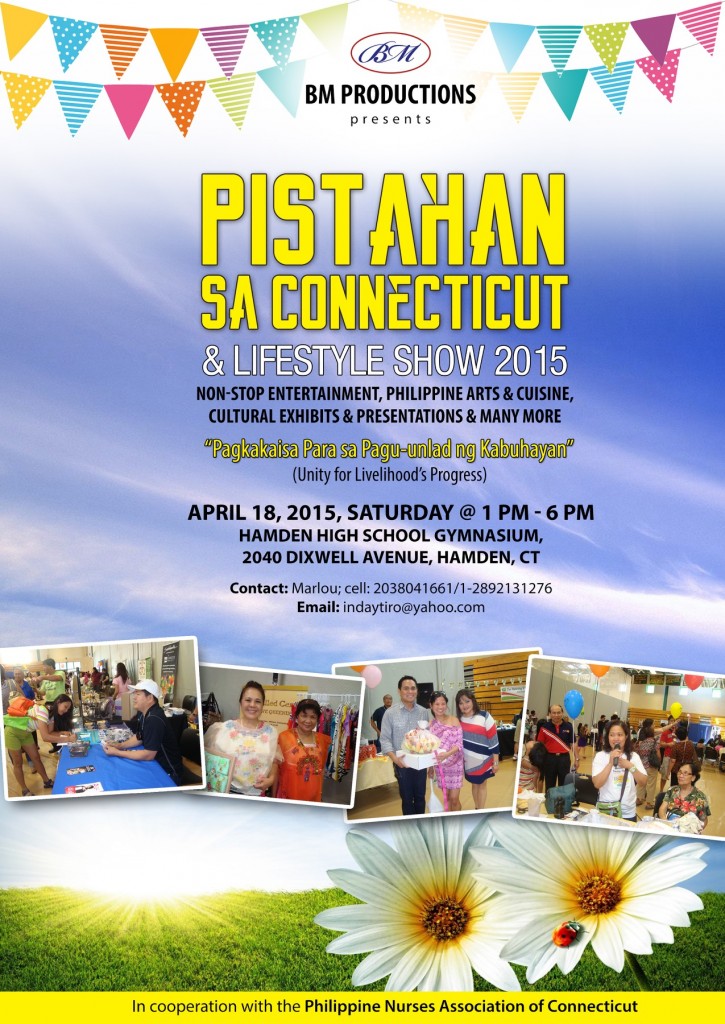 April 18-Saturday; 11:00am-6:00pm
Hamden High School Gymnasium, 2040 Dixwell Avenue Hamden, CT
GENERAL ADMISSION: $ 10.00 (children under 10 free)
EVENT PROFILE:
The Pistahan sa Connecticut (Connecticut Festival) & Lifestyle Show is a community festival and trade show managed by BM Productions, LLC. The event is now on its third year and promises to provide more entertainment and business opportunities for the community of Connecticut.
This year's community event falls under the theme "Pagkakaisa Para sa Pagu-unlad ng Kabuhayan" (Unity for Livelihood's Progress). The whole day event will feature various organizations with their respective means of livelihood in support of their various charity programs. On the other hand, entrepreneurs will have the chance to showcase their skills and innovative business. The show is an ideal market for exploring all the stunning and beautiful things that one can enjoy and primarily focuses on healthy living. This indoor event will offer a wide array of food delicacies, fashion shows, free makeovers, health, wellness and beauty secrets, cooking demos, home renovation advice and travel ideas. Exhibitors will have the opportunity to find agents and distributors for their business products in the region. The Pistahan will also introduce the Mompreneurs exhibits, a showcase of the wide array of businesses by enterprising moms. It offers an extensive range of home décor, gift, apparel,
make-up and cosmetics, accessories and unique art collections. Dads will not be left behind with the showcase of various sports products and home gadgets. Thus, there is something for each member of the family!
PROGRAM
More entertainment and talents are in the roaster for this year's event. Watch out for our surprise guests!!!!!
WHATS NEW FOR 2015?
This is what we have all been waiting for – a lifestyle magazine for the Filipino community in
the East Coast – and – we want you to be part of it. The Pistahan sa Connecticut 2015 is
pleased to launch the new magazine that will cater to the Filipino American community in the
East Coast.
The KABAYANLIFESTYLE Magazine is a full-colored community magazine that features the vibrant Filipino-Canadian community in the east coast covering New York, New Jersey, Boston and Connecticut. The magazine will explore a wide range of coverage including personalities, lifestyles, arts, culture, insights and entertainment of the local Filipinos. Target number of printed copies will be 10000 and will be widely distributed in areas with large
Filipino concentration. An on line presence will further enhanced the marketing capability of Kabayan Lifestyle with a projected reach of more than 1 million Pinoys in North America.
WHO SHOULD EXHIBIT?
The Pistahan sa Connecticut and Lifestyle Show will gather entrepreneurs who would like to tap a new market in Connecticut, specifically the Filipino Americans. However, advertising campaigns are throughout the East coast. The event will be significant to the following businesses/industries:
Businesses in Health, Wellness, Beauty & Skin Care
Food companies who wish to launch/promote healthy products
Businesses that provides fun-filled and educational activities for the kids/youth in preparation for the summer holidays. Or, schools and educational institutes, fashion/modeling agencies, dance studios, art/music institutes, family tours/travel agencies, toy companies and sport companies.
Government and non-profit agencies; financial industry
Clothings, jewelery and accessories, home/security agencies
Home related products
Sports products and apparels
Financial Institutions
Benefits on being an exhibitor or sponsor:
Media exposure: print and broadcast
E-mail blast; promoting your business to our contacts
Speaking engagement opportunity during the event
An exclusive special event for your company only: we gather your target market so you can network with them and give more information about your products and services
Distribution of all your info materials to the Filipino American community
ADVERTISING COVERAGE
We have a dynamic sales team supported by various promotional tools and several forms of media:
Newspapers
Flyer distribution
Social media
Website links
E-mail blast
Outdoor signs/ street banners
735 Total Views
1 Views Today
Organizers
Event categories: Celebrations, Exhibitions, Festivals, and Fundraiser.Event tags: Hamden CT, Hamden High School Gymnasium, and Pistahan sa Connecticut.

Related Events
"Spreading Our Wings Towards Unity" is the theme of the 11th Annual Youth Congress to Read more

The Filipino-Americans of Contra Costa County, Inc. (FACCC, Inc.) invites you to its annual potluck Read more

Fifty years since we left the college, a lifetime ago, but it seemed it was Read more